CERTIFIED ORGANIC
Traditionally used for treating burns and wounds, Beeswax also has a long history of being used for numerous skin conditions such as psoriasis and eczema. As a natural humectant beeswax is able to support the skin in retaining moisture, reinforcing the skin's natural barrier and offering additional protection from the environment. It also has potent antibacterial and anti-inflammatory properties, making it a natural skin healer, skin softener and protector.
CERTIFIED ORGANIC
Traditionally extracted from raw coconuts or dried coconut kernels, coconut oil is rich in medium-chain fatty acids that have been used around the world for centuries to nourish and protect the skin. With its emollient properties, coconut oil has the ability to protect and repair the skin's barrier function, as well as be extremely hydrating by locking in moisture while also preventing transepidermal water loss. It also contains anti-inflammatory and antioxidant properties that, when combined with its hydrating and emollient effects, have the potential to accelerate wound healing.
Glycerine, is a plant based humectant, with moisturising properties that help hydrate and retain moisture in the skin. Due to its low molecular weight, it can penetrate deep into the skin to replenish lost moisture. Glycerine is gentle on the skin and can help protect, soothe, and strengthen the skin barrier.
CERTIFIED ORGANIC
Jojoba is a pure, natural oil that penetrates the skin for deep hydration. Naturally rich in vitamins A, D and E and the minerals chromium, copper and zinc, Jojoba oil can soothe irritations, help keep skin clean, minimise the appearance of pores, and reduce the appearance of fine lines. It also shares the same molecular structure as the natural oils found in healthy skin. As we age, the sebum production in our skin begins to decrease, meaning fine lines and dry skin. The Jojoba plant produces wax esters identical to our sebum, which is why we made it an essential part of macabalm.
CERTIFIED ORGANIC
Kakadu Plum is a native Australian ingredient found across Northern Australia that Aboriginal and Torres Strait Islander people have used for thousands of years for its antiseptic and soothing properties. With the world's richest natural source of vitamin. Kakadu plum is able to support your skin's natural regeneration processes as well as stimulate collagen production, inhibit melanin production, shield skin from free radical damage, and improve skin elasticity, contributing to a brighter and more youthful glow. As well as vitamin C. Kakadu plum also contains two other antioxidants: gallic acid and ellagic acid. These antioxidants have anti-inflammatory properties, can restore the skin's natural barrier, and neutralise free radicals.
CERTIFIED ORGANIC
Native to Australia, macadamia oil is rich in powerful antioxidants, essential fatty acids, vitamins, and minerals. It contains high levels of palmitoleic acid, an omega-7 fatty acid known to keep skin hydrated and retain suppleness. It also protects the skin's barrier with antimicrobial activity, reduces inflammation, speeds wound healing with anti-inflammatory and antibacterial characteristics, and fights indications of ageing by boosting collagen regeneration. Combined with its natural ability to mimic our skins' lipid system, macadamia oil is a powerful ingredient that hydrates, soothes, protects and rejuvenates the skin like no other.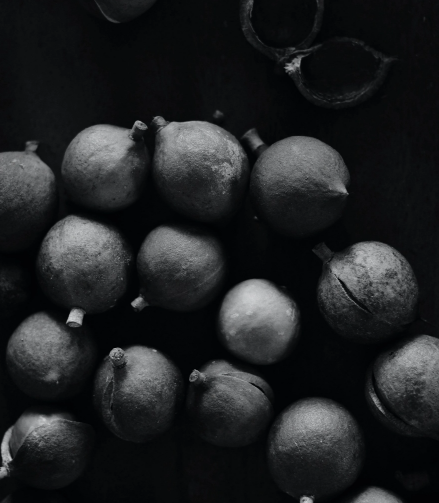 CERTIFIED ORGANIC
Rosehip oil is a pressed seed oil that has been valued since ancient times for its incredible healing properties. Rich in essential fatty acids such as linolenic acid (omega-3) and linoleic acid (omega-6), rosehip oil is known to soften the skin and improve the skin barrier function. In addition to EFA's, it also contains phenols known to have antiviral, antibacterial and antifungal properties. Rosehip oil is also loaded with vitamin A, which helps combat ageing skin by regulating skin cell turnover and promoting collagen production. This seed oil is fantastic for sensitive skin and has an abundance of hydrating and anti-aging benefits.
CERTIFIED ORGANIC
Shea butter is a plant lipid extracted from the nuts of the shea tree. It contains high concentrations of fatty acids and vitamins, making it an excellent ingredient for treating and supporting numerous skin conditions. Rich in vitamin A, vitamin E, and cinnamic acid, Shea butter is a superior moisturiser and can protect the skin against harmful UV rays. Shea butter extract also contains anti-inflammatory and antioxidant properties that can help fight free-radical damage and oxidative stress.
CERTIFIED ORGANIC
Due to its anti-inflammatory and emollient properties and high nutrient content, sweet almond oil has been used to soothe, soften, and rejuvenate the skin for thousands of years. It is rich in proteins, monounsaturated fatty acids, vitamin E, potassium and zinc, and numerous vitamins and minerals. Being non-comedogenic, anti-bacterial, and non-greasy, this medium-light oil is known to protect the skin against the potential damage caused by UV radiation, soothe dry and chapped skin, and skin affected by dermatosis, eczema, and psoriasis. It can also heal superficial skin burns, boost collagen production and keep skin hydrated and supple.
NATURAL
Vitamin E is a significant fat-soluble antioxidant that has been used within skincare for centuries. It is able to support and protect the immune system, cell function and skin health, as well as fight free radicals produced by the metabolism of food and toxins in the environment. Additionally, vitamin E can moisturise, heal and strengthen the skin barrier function.